Recoil Strip Feed/ Tape Feed Inserts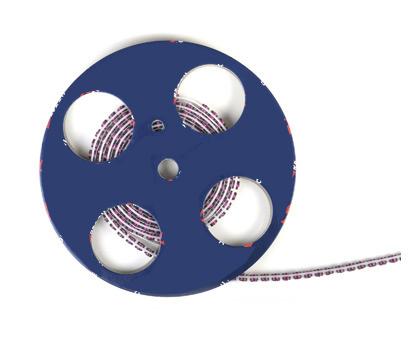 Strip-Feed Inserts To complete the Recoil power installation tools, Recoil has inserts available on strip (M2.5-M12, #2-5/16) to optimize production with increased installation cycles and reduced operator fatigue. Recoil strip feed inserts provide many advantages such as minimized handling costs, faster, more economical assembly and positive inventory control. When used in combination with Recoil pneumatic installation tooling, each insert is retained in plastic strip which is passed through a slot in the front end assembly nozzle, indexing the insert to the installation mandrel. Recoil Strip-Feed inserts are available in most common thread diameters and lengths in addition to the various surface finishes which are available on standard Recoil bulk inserts. The table shows some commonly supplied Recoil Strip-Feed inserts and defines the typical quantity of inserts supplied per reel for each given thread size. Additional insert diameters and lengths may be available to special order.
Tangless Inserts & Tools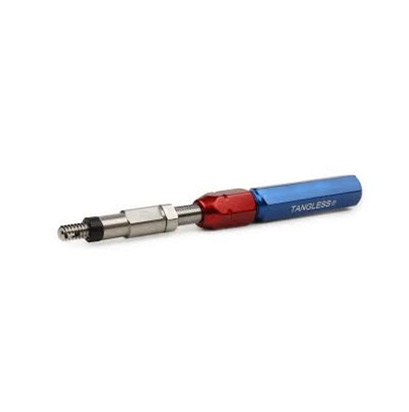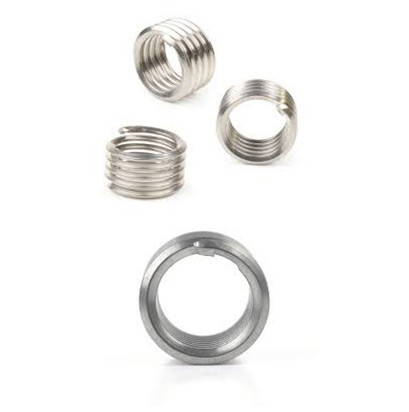 Recoil Tangless or Helicoil Tangfree or Helicoil Tangless Inserts are economical, helically-coiled fastening devices providing permanent, wear resistant screw threads which exceed the strength of most parent materials. Recoil Tangless Inserts or Helicoil Tangless inserts are made of cold-rolled stainless steel wire (AS7245), work-hardened to a tensile strength above 200,000 psi, and a hardness of Rc 43-50. The finished surface (32 microinches) is exceedingly smooth, virtually eliminating friction-induced thread erosion.

Recoil Tangless Inserts or Helicoil Tangfree inserts are identical in form, fit, and function to the conventional tanged inserts. Tangless inserts are identical to tanged inserts in every way except for their method of installation and removal, and they have the exact same procurement specification (NASM8846 for unified sizes and MA1565 for metric sizes).

Recoil Tangless Inserts or Helicoil Tangfree inserts are available in five nominal lengths (1D, 1.5D, 2D, 2.5D, & 3D). The nominal length is a calculated value and cannot be measured in the free state; it is the actual installed length plus 1/2 a pitch. The nominal length is a multiple of the thread size, or of the insert nominal diameter (D).

Recoil Tangless Inserts or Helicoil Tangfree inserts have below advantages:


FOD-Free Design: No tangs to break off, retrieve or lose.
Approved for use on military programs by NASM8846, NAS1130, and NA0276.
Cost Reduction: Significantly decreases installation and inspection time (savings of $0.15-$0.50 per hole based on customer studies).
Bi-Directional design eliminates insert orientation requirements.
Quick, non-destructive removal prevents damage to the parent material and the insert.
Recoil Tangless Inserting Tool or Helicoil Tangless Inserting Tool or Tangfree Insert Inserting Tool or Tangless Inserting tool or Tangless

Prewinder Hand Tools:

The Recoil Tangless installation tool is designed for production. Unlike competitors that utilize plastic body parts, the all-steel construction of the tool makes them sturdy and dependable. The The Recoil Tangless installation tool is designed with precision and durability in mind for manual installation of Recoil Insert or Helicoil inserts. Customers that install hundreds or thousands of inserts per month should consider using the Recoil or Helicoil Prewinder Electric tool for a significant boost in productivity and reduced labor costs.

Recoil / Helicoil strongly recommends using Prewinder style hand tools for ALL manual installation of Recoil/ Helicoil Tangless inserts. The prewinder compresses the insert allowing for easier and more consistent installation.

Recoil / Helicoil Removal Tools are insert specific.

Consider switching to Recoil / Helicoil Tangless inserts and never use a destructive tanged extraction tool again! Tangless: The Tangless Recoil Removal Tool is unique in the helical coil screw thread insert industry. The Recoil Tangless removal tool allows quick, non-destructive removal of Tangless inserts, preventing damage to the parent material and expensive castings.

The Recoil / Helicoil Tangless removal tool simply threads into the installed insert, grabs the removal notch and threads the insert out without damaging the internal STI threads or surface of the casting.